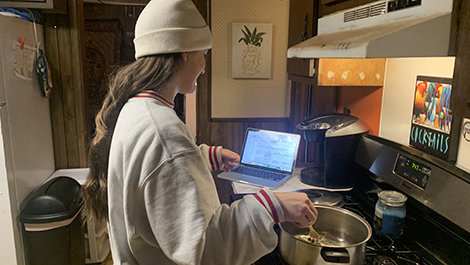 It's really inclusive. It allows for people with different learning styles like me to really succeed.
Shannon Morris, '21, believes the recipe for academic success is flexibility. And a new feature in her Blackboard course sites gives her more ways to study – even while she is cooking dinner.
Blackboard Ally, which Bridgewater State University rolled out to all courses this semester, automatically converts documents into alternative formats such as the MP3 audio files, which Shannon can listen to while busy in the kitchen.
"It's really inclusive," she said. "It allows for people with different learning styles like me to really succeed."
Which is the goal of Blackboard Ally, allowing students to study in whatever ways suit them best, said Tim Wenson, academic technology specialist in BSU's Teaching and Technology Center.
"When we think of accessibility, it's not just for someone who has a visual impairment or hearing impairment," he said. "If you can offer alternative formats, that helps everyone."  
Shannon has dyslexia, which makes reading more challenging. Although she never let it keep her from succeeding in school, the audio files provide needed breaks from staring at a computer screen.
"It's really nice to hear it instead of having to read it yourself," said Shannon, who is majoring in early childhood education and minoring in special education.
Other Blackboard Ally formats include HTML (which is easier for reading on a smartphone) and ePub for use with e-readers, as well as special formats that are compatible with assistive technology such as screen readers. Alternative formats are available by clicking on the "A" icon to the right of a document in Blackboard. 
Blackboard Ally also assesses how well people with disabilities can access content and provides professors with suggestions for improvements.
"It tells you exactly what needs to be changed," said Dr. Sue Eliason, an associate professor of elementary and early childhood education.
Blackboard Ally taught Eliason about adding captions or descriptive text to videos and images, a practice that is now a routine part of creating content for her students.
"We all learn differently," she said. "We have a preference for how we like to take in information."
Do you have a BSU story you'd like to share? Email stories@bridgew.edu.