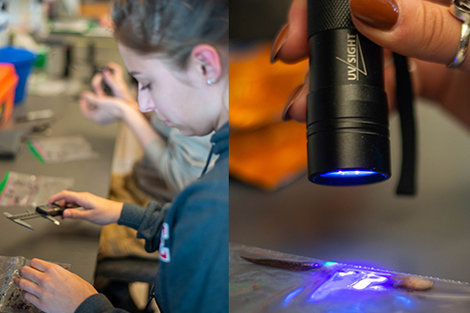 We know research is really critical for students in science to be successful.
Story Series
News Feature
Laboratory work is an integral component of science courses, but it often focuses on conducting experiments for which there is already a known answer. Bridgewater State University's Dr. Caitlin Fisher-Reid wants to lead her classes into the unknown.
Thanks to a National Science Foundation grant, she is bringing ongoing research on salamanders into the classroom.
Fisher-Reid mentors some students through independent research (see video above), but the grant enables her to extend the project to those just taking a class.
"They'll have a better grasp on research and what it means to be a scientist," said Fisher-Reid, an assistant professor of biological sciences. "And they are doing real science, not just a cookbook lab."
Fisher-Reid studies salamanders whose habitats range from southern Canada south to Virginia and west to Minnesota. She is part of the Salamander Population and Adaptation Research Collaboration Network, which connects researchers studying the tiny creatures. The work helps scientists learn about the amphibians (including an endangered type found on only a few Virginia mountain tops) and better understand changes to climate and forests.
"They're a good indicator of a healthy forest," she said of salamanders. "If you cut down the forest or make it too hot or too dry, you won't find them."
Fisher-Reid is collaborating on the grant project with colleagues at Michigan State University, the University of Massachusetts at Amherst, Pennsylvania State University and the University of Richmond. Educators envision having classes communicate with one another through Skype.
Fisher-Reid is focused this year on finalizing the course-based research experiences and plans to pilot them next year at BSU. Students will conduct data analysis to determine population size and other attributes, as well as work in Great Hill woods, an area on campus where salamanders live.
Ultimately, Fisher-Reid hopes to reach more students than faculty can through one-on-one research mentoring.
"We know research is really critical for students in science to be successful," she said.
Do you have a BSU story you'd like to share? Email stories@bridgew.edu.