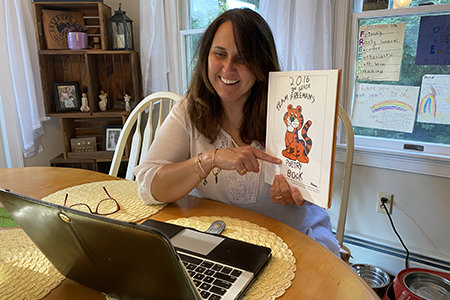 "Had I not had those experiences (at BSU), I wouldn't have been as confident with what I was doing with my students."
Nichole Freeman, '98, G'06
Falmouth teachers Nichole Freeman, '98, G'06, and Daria Kasparian abruptly pivoted when the COVID-19 pandemic forced school online. Fortunately, they knew how to continue serving their students thanks in large part to their virtual education classes at Bridgewater State University.
"Had I not had those experiences, I wouldn't have been as confident with what I was doing with my students," said Freeman, a third-grade teacher at Teaticket Elementary School.
Kasparian, who teaches high school English, added: "Those lessons became more relevant and even more significant."
Freeman and Kasparian are part of a group of Falmouth educators pursuing the Teaching in a Virtual/Online Setting graduate certificate. Launched in 2018, the four-course program covers topics such as using digital tools, designing coursework, and fostering consultation and collaboration.
BSU also offers an undergraduate certificate through the College of Continuing Studies where students gain valuable online teaching skills before they enter the workforce.
"It's so timely," said Program Coordinator Tracy Charbonnier, '03, G'17. "It's really providing new teachers walking out the door from Bridgewater with confidence they can do it."
Veteran educators such as Freeman and Kasparian praise the classes for introducing academic research and assisting them with challenges they faced during the pandemic.
"It helped me to not be afraid to seek and try out new things," Freeman said. She also had praise for Dr. Eliason, an associate professor in the Department of Elementary and Early Childhood Education. "Having taken a course with Sue, I had a variety of plan Bs."
Meanwhile, the College of Graduate Studies recently launched a four-class certificate in online course design. Geared to higher education faculty and even corporate HR specialists and trainers, it covers ways to develop rigorous, accessible, inclusive virtual learning experiences. Full- and part-time BSU faculty can complete it for free.
"Our institution is really supporting it," Eliason said. "Bridgewater State is very committed to effective online teaching."
The course-design program grew out of BSU's Teaching and Technology Center's Online Teaching Institute. More than 200 BSU faculty are participating in this summer's institute in preparation for fall classes that will be mostly online.
In Falmouth, Freeman and Kasparian feel ready for whatever comes when school resumes, including remote learning.
"It doesn't replace the in-classroom experience, but it does certainly enhance it," Kasparian said of online education. "It's something I will use going forward whether we're in class or remote."
Do you have a BSU story you'd like to share? Email stories@bridgew.edu.