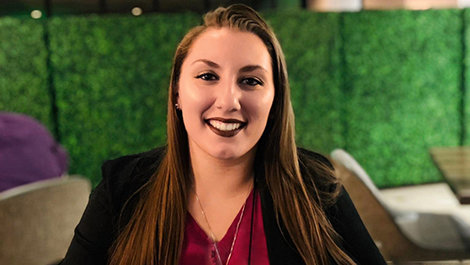 "I always saw myself getting a PhD. Bridgewater helped prepare me for that."
Holly Lonergan, '17, could have easily abandoned her academic dreams after tragedy struck. Instead, she persisted and thrived.
Lonergan's father, John, who was her biggest educational supporter, committed suicide when she was a Bridgewater State University student.
"He really wanted to see me succeed in school," she recalled. "He was the person I would get that motivation from."
After his death, Lonergan simply went through the motions of school until she joined Professor Elizabeth Spievak's psychology research laboratory at BSU.
"Between her and students in the research lab, I became reinvested and realized that was what I should continue to do because he would want me to do that," said Lonergan, who studied psychology and criminal justice at BSU.
Now, she is a criminal justice doctoral student at the University of Cincinnati and working toward fulfilling her educational dream. And she's not the only Bear in Bearcat habitat. Lonergan and Dr. Francis Cullen, '72, an emeriti professor at Cincinnati for whom a BSU graduate research scholarship is named, often reminisce about Bridgewater and Massachusetts.   
Lonergan researches how the brain, genetics and the body interact with the social environment to influence people's behaviors. She studies the criminal justice system, including rehabilitation and treatment in correctional institutions.
When conducting research, Lonergan often thinks of her father, who battled alcohol use and mental health challenges.
"She deserves a lot of credit for not doing the easy thing which is to sort of wallow in self-pity and check out," Dr. Spievak said. "Without her willingness to try new things and step outside of her comfort zone over and over again, she probably wouldn't be where she is."
Her undergraduate research included a study, funded by BSU's Adrian Tinsley Program, on the many psychological and environmental factors that affect the use of force by police officers. She interned for the Massachusetts Department of Corrections' Strategic Research and Planning Division and presented at professional conferences.
Dr. Feodor Gostjev, another of Holly's BSU mentors who supported her following her father's death, said her research is exemplary.
"I'm so pleased with Holly's accomplishments," said Gostjev, an assistant professor of criminal justice. "I was there to guide and make suggestions. She is the one who should get all the credit for the unprecedented research commitment and perseverance."
Lonergan appreciates the advice she received from Spievak, Gostjev, Dr. Michael Root, an assistant professor of psychology, and Fran Barth, the lab/internship coordinator for the Department of Psychology.
"They were all in their own individual way instrumental to help me get where I am now," she said. "That was my support system."
She returns the favor by mentoring younger students at Cincinnati and BSU who are following in her footsteps.
"I always saw myself getting a PhD," Lonergan said. "Bridgewater helped prepare me for that." 
Do you have a BSU story you'd like to share? Email stories@bridgew.edu.