A Great Place to Learn — and Work!
What makes Bridgewater State University a great place to work? Faculty, librarians and staff share why they love BSU.
LaCasha Figueroa, '06
Can you explain what your job entails, what are your main responsibilities?
Student Navigators work to close the accessibility and equity gap by collaborating across departments to provide resources, interventions and opportunities to students most in need and most at risk of not persisting.
What do you like best about your job?
Meeting with students and encouraging them to keep moving toward their goals.
What do you like best about working at BSU?
I like working in the Lewis and Gaines Center for Inclusion and Equity. The environment allows me to be my best self and build relationships with students which propels building a block to support student success. Furthermore, being a team member of The Office of Student Success Division allows me to be seen, heard, valued and supported. The work that is being done to support students in this office is moving student persistence to a new level.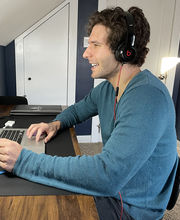 What I love about my job is it aligns so well with my personal values. Social justice and equity are things that are important to me as a person."

Read more »
Professor of Counselor Education