BSU Works
From the halls of Congress, to cutting-edge tech companies, to the world of music, BSU alumni are leaders in many sectors and industries.
Also in this issue: Treasures from the Archives, 1970 Alumna One of First Female Air Force Pilots, Learning to Teach in Post-Pandemic World
Dr. Enping Li/Computer Science and
Dr. Hannarae Lee/Criminal Justice
---
Capital Careers
By John Winters G'11
Meet alumni who have found their careers and passion in public service
Bridgewater State University alumni work at all levels of government. From the halls of the U.S. Congress to the Massachusetts Statehouse to congressional offices around the commonwealth, Bears are doing important behind-the-scenes work of government.
We spoke to four alumni whose talent, expertise and work ethic have made them indispensable to the politicians and public they serve.
They Call the Tune
By Brian Benson and Heather Harris Michonski
Meet alumni who have turned their love of music into rewarding careers
Making beautiful music are two BSU alumni forging careers in one of the most challenging of fields. Greg Fernandes, '13, founded Rose Conservatory in Brockton, which is dedicated to helping young people find the same joy in music that he always has. Meanwhile, a song written and performed by Jennifer Christensen, '16, was featured on a television series on the Bravo network.
Stay Connected: Send your news to the Office of Alumni Relations via email to alumni@bridgew.edu or mail to: Jones Alumni House, 26 Summer St., Bridgewater State University, Bridgewater, MA 02325.
The class notes editor reserves the right to edit submissions for clarity and brevity. Submitted photos must be either high-resolution digital images or original prints from film. Photos generated on home printers are not of publication quality.
Save the Date for Homecoming '22!
Friday, September 30 - Saturday, October 1
Visit bridgew.edu/homecoming for updated details and registration information.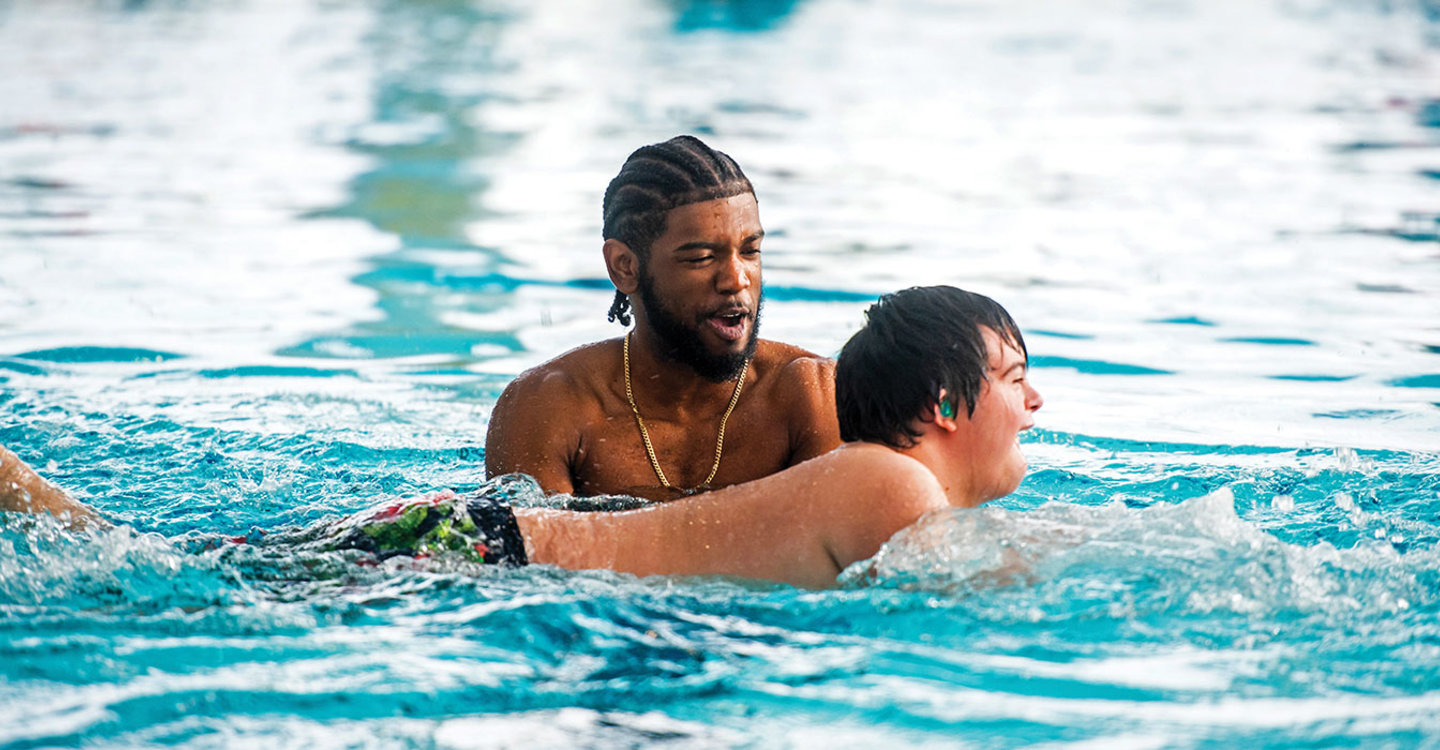 Parting Shot
Shish Ambroise, '22, a physical education major, helps a young boy improve his motor skills in the Moriarty Pool in Kelly Gymnasium. The youngster is taking part in a Saturday session run by the Children's Physical Developmental Clinic (CPDC), one of eight sessions held each semester for children and youth with disabilities.
Photo by Ashley McCabe